Last time I was at home, my wife and I were discussing purchasing a snow blower for this winter. We have the money saved up to buy it but we were debating on other needed things as well. The snow blower that we had last year actually belongs to my mother and I had to return it because my step father wrecked their ATV that they used for snow removal, so that basically leaves us without a means to remove snow other than a good old fashioned snow shovel. It turns out that one of our neighbors who owns an ATV and a snow plow has offered to remove our snow for us this winter for a very reasonable rate, actually much less than what it would cost us for the snow blower. We also have several projects that need to be done that I just won't be able to get to. Our neighbor happens to also be hurting from the economy and he is out of work. So why not help him out? The New Economy will be one based on neighbors working for each other. So if we can send some money his way to take care of the snow this year it will help them out a bit and we can use the rest of that money to finish some projects which we are also paying him to do. One of those projects is running wiring out to our horse and goat stalls so we can heat the water this winter. So that is one project that our neighbor is doing for us. Breaking ice for the animals is a daily project on the homestead so having heated water and lighting at the stalls will make it real nice…yeah I know it's going to hurt our cheap $50 a month electric bill. But anything we can do to make things easier on my wife while I'm gone is worth it….Now, another project I plan to do later is to build one of these to be more self-sufficient and not have to rely on electricity or breaking ice..Check it out: Solar watering trough. Click Here to learn how to build it.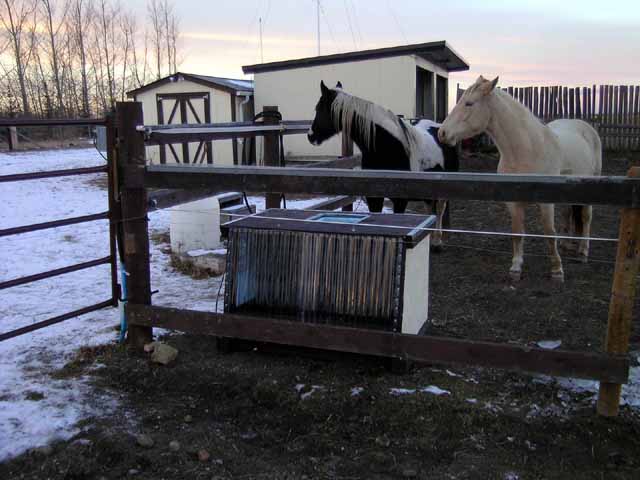 Yes, I would have my neighbor build this instead, but we could really use the power and lighting out at the horse stall for other purposes as well. So I plan to build this later. I will document the process when I start that project.
Now A Little more about our Homestead
Our Ducks
My wife got these critters for free from an ad on Craigs List. Now, I'm not a duck person and neither is my wife and that pond they are in is nothing more than a glorified mud puddle that will freeze up this winter and dry up in the summer, plus they are eating up way too much feed. So when you factor in their lack of "Quality of Life" and our lack of funding in our "Universal Animal Care" budget we have no choice but to help them escape their misery by helping them find their way to our freezer for thanksgiving dinner this year….Sorry, just thought I'd rationalize the genocide when I kill these guys off.
Here is a pic of our chicken coop

It's an old outbuilding from the original homestead that used to be here.
Here are some of our Chickens
The black chickens are Black Austrolorps and are good as both a meat bird and as layers. My wife also has some banties that make good sitters that she uses to hatch the other chickens eggs. As you can see we free range them to save on feed and keep the bugs down.
Here is our milk goat on the milking stand that I built last year.
And Here is my wife milking the goat

Here is our Horse Chance eating hay.

We used an old tractor tire and a rubber mat on the ground for his feeder. We try to make use of whatever junk, tires, and scrap that we can find.
Winter is coming on fast and I still have more firewood to cut and stack and a little more work to do on the animal stalls before we are completely ready for winter. But we're getting there. 8 years of living in Texas has spoiled us and it's taken all this year and all last winter here in Northern Idaho for us to get back into the groove of things of living in a snowy winter climate. But we'll make it, I was born and raised in the mountains of Central Oregon, so this isn't really new to us.
Tweet
About the Author: admin