Get Ready to ShakeOut October 17, 2013
4 min read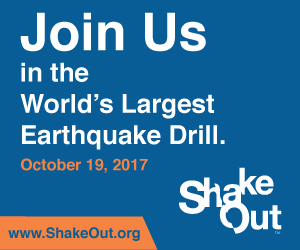 On October 17, 2013 at 10:17 a.m. (local time) millions of people across the U.S., Canada and around the world will participate in the Great ShakeOut earthquake drill.
The ShakeOut began in California in 2008 and has been organized in many other states, regions and countries since then. Official ShakeOut Regions require significant local or regional coordination, typically by an emergency management agency or an alliance of many organizations. If your state, province, or country is not yet participating you can register yourself or your business or organization as part of the global participation total.
ShakeOut drills help people in homes, schools, businesses and organizations practice how to be safe during big earthquakes, and provide an opportunity for everyone to improve their overall preparedness. By participating, you can have peace of mind that you, your family, your co-workers and millions of others will be better prepared to survive and recover quickly from the next big earthquake in your region.
Drop, Cover and Hold On
Federal, state and local emergency management experts and other official preparedness organizations all agree that "Drop, Cover, and Hold On" is the appropriate action to reduce injury and death during earthquakes. You may only have seconds to protect yourself in an earthquake, before strong shaking knocks you down–or drops something on you. Practicing helps you be ready to respond. The ShakeOut is an opportunity to practice how to protect ourselves during earthquakes.

If you are inside a building, move no more than a few steps, then Drop, Cover and Hold On:
DROP to the ground (before the earthquake drops you!),
Take COVER by getting under a sturdy desk or table, and
HOLD ON to it until the shaking stops.
The main point is to not try to move but to immediately protect yourself as best as possible where you are. Earthquakes occur without any warning and may be so violent that you cannot run or crawl; you therefore will most likely be knocked to the ground where you happen to be. You will never know if the initial jolt will turn out to be start of the big one. You should Drop, Cover, and Hold On immediately!
In addition, studies of injuries and deaths caused by earthquakes in the U.S. over the last several decades indicate that you are much more likely to be injured by falling or flying objects (TVs, lamps, glass, bookcases, etc.) than to die in a collapsed building. Drop, Cover, and Hold On offers the best overall level of protection in most situations.
ShakeOut.org has a great 2-page PDF with recommended Earthquake Safety Actions (including situations when you cannot get beneath a table) as well as an Earthquake Guide for people with disabilities and other functional needs (8-page PDF).
What NOT to do
DO NOT get in a doorway! An early earthquake photo is a collapsed adobe home with the door frame as the only standing part. From this came our belief that a doorway is the safest place to be during an earthquake. In modern houses and buildings, doorways are no safer, and they do not protect you from flying or falling objects. Get under a table instead!
DO NOT run outside! Trying to run in an earthquake is dangerous, as the ground is moving and you can easily fall or be injured by debris or glass. Running outside is especially dangerous, as glass, bricks, or other building components may be falling. You are much safer to stay inside and get under a table.
DO NOT believe the so-called "triangle of life"! In recent years, an e-mail has circulated which has recommends potentially life threatening actions , and the source has been discredited by leading experts. Read the Earthquake Country Alliance special report to learn more.
ShakeOut Drill and Resources
ShakeOut organizers suggest at minimum the drill should last at least one minute, the length of strong ground motions from a major earthquake. People can participate in just the drill, but even better is to imagine how the environment will shake during this earthquake and plan other steps to make your home, office, school safer from this type of event. Many organizations will do much more than just the drop, cover, and hold on drill, and have more extensive tests of their emergency plans. Visit www.ShakeOut.org/howtoparticipate for ideas on how to plan a drill, do a hazard hunt with your kids, make a family plan and more.
Learn more about the Great ShakeOut and find resources like drill manuals, broadcasts, flyers and games at www.shakeout.org … and get involved!
Also check out a few earthquake discussions on American Preppers Network forum here and here