Just One Reason Why We Prepare
5 min read
The older we get, the more often my husband and I catch ourselves saying, "It didn't use to be like this." It's why we're preppers.
Just as environmental scientists predicted 20 to 30 years ago, we do have more extreme weather of every sort – hurricanes, tsunami, too much and not enough precipitation, colder and hotter temperatures, mudslides, wildfires, etc. And that's just the oddities in our weather. So much is different since we were born, including a doubling of the world population and the host of troubles that brings.
When I was young, we rarely watched TV in our house, partly because my mother freaked out about the electricity bill and said we'd ruin our eyes. So, for a single program to stand out in my memory is no big deal – except that the CBS Special Report I recall aired in 1970.
When newscaster Walter Cronkite presented "Earth Day – A Question of Survival," on the first-ever national Earth Day, I was in elementary school. The founder, young Democratic Sen. Gaylord Nelson, hailed from my home state of Wisconsin.
Although I was too young to understand all the event's goals, and my dad called all activists "hippies," the movement inspired me because I was such an outdoors' kid. In all seasons and weather, I was building forts, swimming, sledding, fishing, hunting or just plain exploring. I didn't want my beautiful world poisoned.
Watching a video of the original program recently, I was reminded of Cronkite's words about our "fouled skies, filthy water and littered earth." He called the first national Earth Day a "day dedicated to enlisting all the citizens of a bountiful country in a common cause of saving life from the deadly byproducts of that bounty."
I scored an A+ on my classroom poster project for the event. I drew a crying rabbit sitting on a stump surrounded by acres of sawn trees. He held a sign spelling P-O-L-L-U-T-I-O-N vertically, with each letter starting a word my young mind perceived as being really bad. Using a dictionary, I came up with Putrid, Obscene, Loud, Lousy, Ugly, Toxic, Icky, Oily and Nasty.
With a limited view, I thought our planet's problems were roadside litter and air pollution in far-off Los Angeles and New York. I knew nothing of overpopulation, depleting aquifers, nuclear waste, ozone destruction, space junk, global warming, receding icecaps, peak oil, genetically modified organisms at loose in agriculture, poisons in drinking water, rainforest depletion or extinction of species.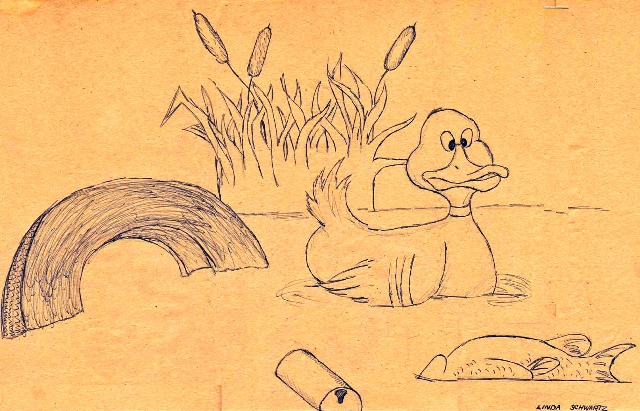 Then it hit me as I read more news of that era and watched more Earth Day 1970 videos. No one was talking about those issues. Our concerns really were easier to grasp because we could see and smell them – industrial waste in our environment and a general untidiness.
I seldom came across more alarming issues, such as from a speech by biologist Barry Commoner at an Earth Day Teach-In. "This planet is threatened with destruction and we who live in it with death. The heavens reek, the waters below us are foul, children die in infancy, and we and the world, which is our home, live on the brink of nuclear annihilation."
Cronkite said the first national Earth Day attracted people (predominantly young, white and anti-Nixon) in 2,000 U.S. communities. "The protests appeared frivolous and the protestors curiously carefree," he said, "although their message was clear – act or die." Incidentally, President Richard Nixon's staff advised him not to attend any teach-ins and the federal budget had no funds for environmental problems.
Perhaps Cronkite's over-the-top language caused many then to ignore the grassroots mission as hyperbole. It was another 20 years before Earth Day became a world event.
When a United Nations committee in 1987 called for banning manmade chlorofluorocarbons by 2000 after scientific evidence the chemicals eat away Earth's ozone layer, developing nations such as China balked at a total phase-out of CFCs. China said it "did not want to sacrifice economic progress," according to a 1989 "Young Students Learning Library" textbook. In developing countries' view, industrialized nations had been recklessly polluting the world for decades and should be the ones to pay the penalty.
In 1990, George H.W. Bush presented himself as the "environmental president." A year later, the Bush Administration disagreed with proposals by Japan and the European Community to deal with hazards of global warming, according to "A People's History of the United States" by Howard Zinn. The Bush Administration feared setting limits and timetables on carbon emissions would "hurt the nation's economy" in the short term without "demonstrable long-term climatic benefit."
Just last month, the United Nations Intergovernmental Panel on Climate Change finally said with confidence that it is "extremely likely" global warming experienced since the 1950s is manmade. In 2007 the panel said it was "very likely" to be man's fault.
Qin Dahe, who co-chaired the panel's report, said, "Our assessment of the science finds that the atmosphere and oceans have warmed, the amount of snow and ice has diminished, the global mean sea level has risen and the concentrations of greenhouse gases have increased."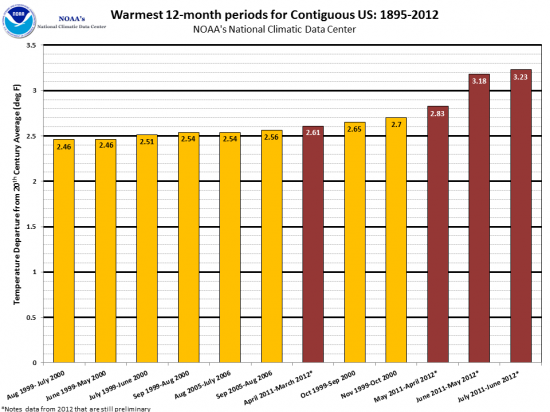 Still, just like in 1970, some experts disagree with the panel's findings, referring to a slowdown in warming over the past 15 years. The panel said that while air temperature may not be warmer, the ocean temperature is. During UN Climate Week, former Vice President Al Gore reported that 12 of the hottest world temperatures have been recorded in the last 15 years. That has certainly been true here in the Ozarks, coupled with record drought.
In 2007, I spoke with a global warming expert, scientists and meteorologists about Missouri's extreme weather. Their consensus was, no matter global warming's cause, we could expect more severe storms, insect infestations, heavier downpours, longer droughts and more bizarre weather. And that was if we did nothing more to contribute to global warming.
As the experts warned, rain rarely falls gently here anymore. It pummels the earth, storms in like a hurricane or doesn't rain for weeks on end. Instead of welcoming a rain shower when thunder rumbles in the distance, we wonder if it's time to bolt to the basement or if our garden will be smashed to smithereens.
When I asked Dr. Helen Caldicott, an anti-nuclear speaker for 40 years, why we didn't pay attention sooner to the environmental warning signs, she merely said, "Yes, indeed, why didn't we?" Now, with the potential for a multitude of grave calamities, the outlook is bleak. The release of radioactive contamination from the earthquake-damaged Fukushima nuclear plant is "much, much worse" than even Caldicott forewarned us about.
Some experts discredit Caldicott for her "fear-based plea" for ending nuclear power. Perhaps economic interests override concerns of public safety and planet health. Meanwhile, in Washington State, nuclear waste holding tanks are leaking the world's most dangerous substance into the environment – and have been for years – with no plans to replace the tanks.
Sadly, our environmental concerns are no longer as mundane as empty beer cans and old tires pitched in the woods. Our societal worries are just as overwhelming. So, we prepare.
We remember when it didn't use to be this way.
Artwork by Linda Holliday, circa. 1974